All cartridges are built to a standard of performance and reliability. Certifications for each cartridge type detail the capacity of operation and the materials of construction. See Certifications page.
Cartridges with oxygen removal resin in total or as one of the layers  are evacuated with nitrogen then vacuum sealed in Mylar foil bags and double bagged with a Mylar outer bag  over the storage box.This ensures optimum protection to prolong shelf-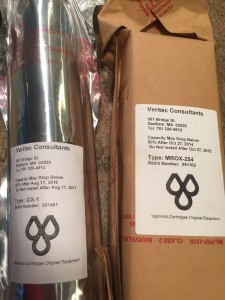 life.
Each cartridge has a serial number and expirations dates.
Certain resins are processed for particular applications, and monitored for quality.
ASTM testing procedures are utilized such as:
D2187-Physical and Chemical Properties of Particulate Ion-Exchange Resins
D3375- Column Capacity of Particulate Mixed Bed Ion Exchange Materials
D7513- Capacity of Ion Exchange Cartridges
D8435- Capacity of  Oxygen Removal Cartridges